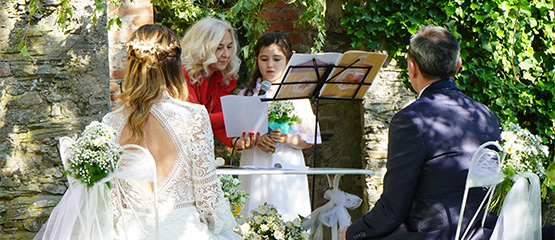 New weddings and renewal of vows
It often happens that one or both of the parties have been previously married and divorced, separated or widowed. What better opportunity of a wedding ceremony to involve and include children from previous relationships into the "new family" or to rebuild kinships that had broken up due to disagreements or misunderstandings. The ceremony will be an occasion to show your feelings publicly rather than to express regret for the past and your commitments and aspirations for the future with words that too often have no place in everyday life.

An important wedding anniversary or a desire to renew one's trust and commitment to each other after a moment of crisis or serious difficulties in the couple's life: deciding to reaffirm your vows will mean awakening the dormant feelings, retracing the important steps in life that you have already experienced, rejuvenate and reinvigorate your choice to continue sharing the future together.